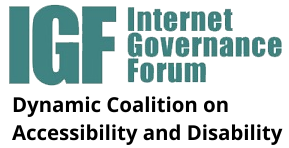 The Dynamic Coalition for Accessibility and Disability (DCAD) announces with pleasure and gratitude a grant from Google LLC. These funds have been donated to facilitate the participation of more people with a background in disability and accessibility at the Internet Governance Forum (IGF). As this year's IGF will be virtual, the funds will be used to cover the expense of improved broadband connectivity or other support (for example sign language interpretation) without which a candidate might be barred from effective participation.
Eligibility
To be eligible for consideration participants must:
Be registered to attend IGF 2020
Have access to a bank account to allow for payment and provide receipts for relevant expenditure
Have a background in Internet policy concerning accessibility and disability
Be able to describe clearly (with costs) and to justify why (and for what) the funds are needed. While the basic intention is to fund supplementary broadband, other support may be considered.
Be able to give a summary of plans for attending the IGF, e.g. list of sessions to attend, participation as speaker or rapporteur
Be prepared to provide receipts or related documentation for relevant expenditure, and to submit a brief report after the IGF of the effectiveness of the grant.
Applications
Applications should be made in English but the standard of language used will have no bearing on selection. Brief answers of two-three sentences to the application questions will be sufficient in most cases.
Please complete the application form at https://igf-dcad.org/igf2020-grant-application/
Closing date for applications is 16th October 2020 at 12.00 (midnight) UTC.
Applications received after this date and time will NOT be considered. Successful applicants will be informed by email around 22 October 2020.
If your application is successful you will be asked to provide details of the bank account you will use. You should provide confirmation that the funds were received and used, and submit your report by 1 December 2020. If confirmation and report are not submitted in a timely manner, you will become ineligible for future funding from this source.
Please read the FAQs for further information.
FAQs
Must I be living with a disability to apply for the support?
The funding is offered in the first instance to assist persons with disabilities. However disability advocates may also be considered.
Are the funds only for supplementing broadband?
Other forms of support may be considered. You will need to supply a description and an estimated cost. If you need sign language interpretation, please specify the sessions that you need the interpretation and which sign language. If your application is successful, you may be required to arrange your own interpreter to be available online for the specified sessions. We will assist with liaison of the IGF Secretariat.
If I am selected, when will the funds arrive?
We will do our best to transfer the funds before the IGF begins. However please understand that we cannot offer guarantees about this.
Do I need to send receipts?
You are required to account for how the funds have been used. In the absence of formal receipts please send us related documentation.
If I am selected is it possible for me to use someone else's bank account?
Yes. You will need the account owner's agreement to send us the account details, and this will be at your own risk.
 How much funding might I receive?
We are working with an indicative costing of up to US$80 depending on the number of applications and the needs expressed. In certain circumstances, the selection committee will consider requests for additional funds.
Please note that charges from your receiving bank may reduce the amount of your grant.
I still have questions! Who do I contact?
Feel free to reach out to grantinfo@igf-dcad.org with any further queries.